Have you ever witnessed an image so powerful that you couldn't get it out of your mind? Ten years ago, Grant Olsen took a family trip to Nepal. While exploring the country, he spent some time in Chitwan National Park. "It was like The Jungle Book," Grant recalls. He saw elephants, Bengal tigers and monkeys. But one animal in particular left an impression on him. "I was blown away by how big 'Äî and grumpy 'Äî the wild rhinos were," he says.
The next day, in a small village neighboring the jungle reserve, Grant and his sister played with some of the Nepali kids. A guide pointed out a trail next to the village's crops. The trail was made from rhinos that stomped through the farmland at night to eat the crops. "Sometimes these kids have to stay out at night to fend off the rhinos and protect the crops," the guide said matter-of-factly.
"After seeing those enormous rhinos, I couldn't even fathom it." Grant says. "That visual really stuck with me." Before Grant left the country, he found a piece of scrap paper and jotted down the story 'Äî the first draft of what would become his children's book, Rhino Trouble.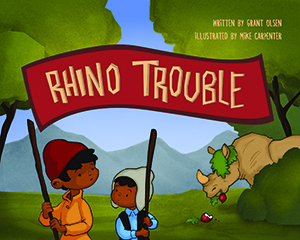 A story in the making
Over the next several years, Grant would pull out his story 'Äî the tale of two clever Nepali boys who played during the day and protected the village's crops from rhinos at night 'Äî to refine it and add new ideas. He'd put it away for a while but always came back to it. He couldn't get the story out of his head.
A year and a half ago, Grant, now a copywriter on CHG's creative team, brought a draft of his book into the office. "The writing team here at CHG took a look at it and gave me some excellent suggestions," Grant says. He then submitted his story to several national book publishers and received a great response.
Giving back to the kids
Rhino Trouble, now on sale in bookstores and online, is already a success. But for Grant, it's not about money or fame. It's about making a difference.
"I wanted to give back to the incredible kids of Nepal," Grant says. He is giving 100 percent of his proceeds from Rhino Trouble to The Umbrella Foundation, a non-profit dedicated to providing food, education, safe shelter and healthcare to Nepali children.
"We feel very honored that Grant has chosen to support Umbrella with such a wonderful piece of work," says Eadaoin Close, one of the foundation's directors.
While Grant's not protecting a village from rhinos, he's making a difference in the lives of the Nepali kids who do.