What makes CHG Healthcare a great place to work? Our people and the core values they uphold every day — Putting People First, Continuous Improvement, Integrity and Ethics, Quality and Professionalism, and Growth. These core values are the foundation of our people-centric culture, providing us the opportunity to elevate our thinking and empowering our people to be their best.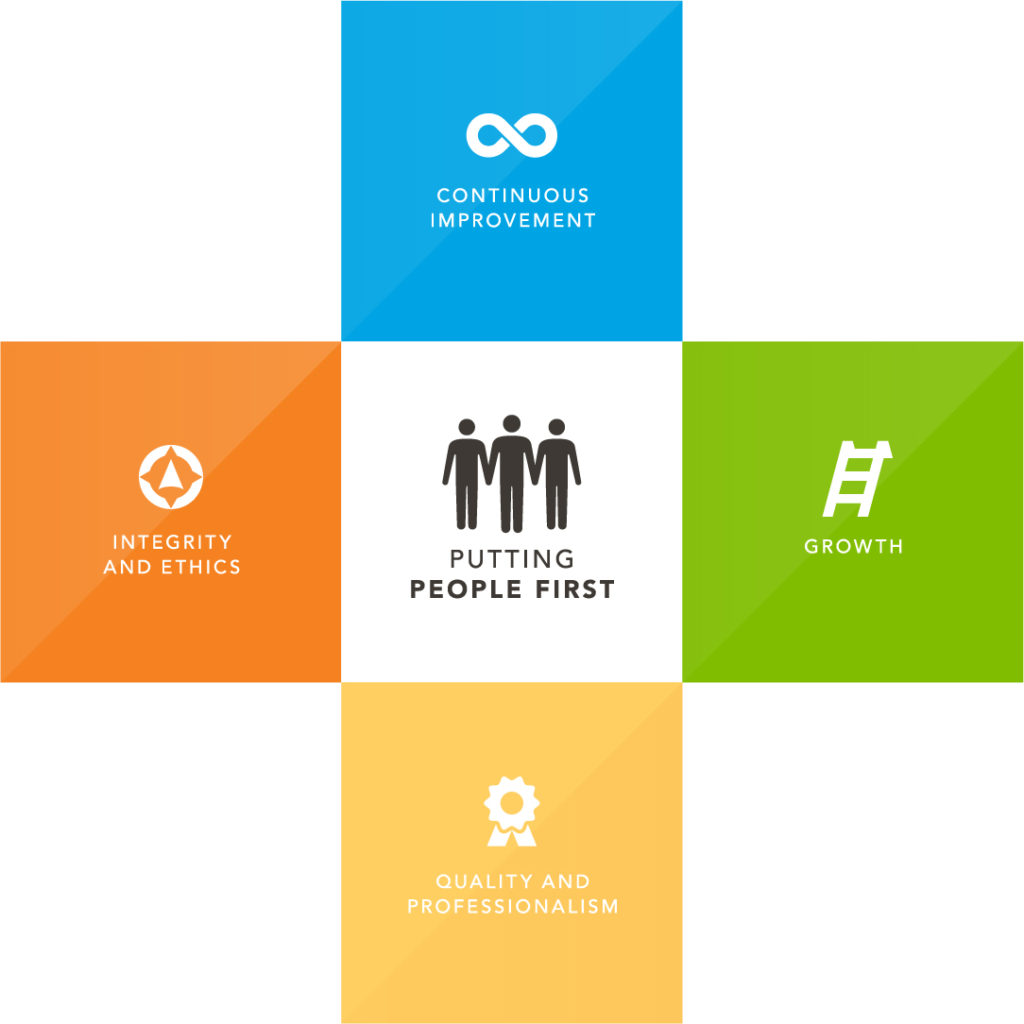 Learn more about each of our core values:
Putting People First
Putting People First is at the core of everything we do. Our people-centric culture fosters an atmosphere of respect, caring, support and fun. That means we make decisions with the best interests of our people in mind and consider the thoughts and feelings of others before acting. It also ensures that we take care of our co-workers and our communities through our daily work and community outreach.
"CHG values real people with unique personalities and perspectives. I love that I am accepted for who I am and not expected to fit into a specific mold."
— Spencer Sutherland, public relations manager for CHG Healthcare
Continuous Improvement
Getting better every day is a big part of our culture. We move our company forward by improving ourselves, our culture and our business, and constantly seek opportunities to enhance the way we collaborate. Good enough is never enough; our people welcome and respond positively to feedback and actively seek ways to improve processes within our work.
"If we remain stagnant, we are denying ourselves our true potential. Taking opportunities to grow personally not only helps you, but others around you."
— Kym Fessler, CompHealth locum tenens
Integrity and Ethics
All of our actions and decisions are guided by an uncommon commitment to Integrity and Ethics. We strive for the best in ourselves and inspire and encourage others to conduct business ethically. That means we are honest and trustworthy at all times and work hard to ensure transparency and honesty in all interactions and communications with our co-workers, our healthcare professionals and our clients.
"When people who work together choose to be honest and trustworthy, it creates an environment of caring and thoughtfulness."
— Elizabeth Gray, CompHealth locum tenens
Quality and Professionalism
Our reputation for industry-leading Quality and Professionalism is earned every day with each placement we make. We hold ourselves to rigorous standards when placing healthcare professionals with clients to ultimately benefit the patients they serve. Most important, we seek to understand the needs of our co-workers, healthcare professionals and clients in order to better serve them. Then we deliver what we say we will deliver.
"We have to provide high levels of quality in our jobs with every contact, provider and person in the company. Without it, we'd be mediocre, and mediocrity wouldn't have gotten us where we are."
— Amanda Curtis, CompHealth locum tenens
Growth
Everyone wins when we grow. A thriving business creates more opportunities for our people, our healthcare professionals and our clients. To ensure ongoing Growth, we challenge ourselves to set stretch goals for our teams and ourselves and share successful strategies and techniques across teams, departments and divisions to help us grow and improve our business.
"Our passion for growth means much more than great profit margins — it means more opportunity for our team, more jobs for our community, stability for our families, increased learning for our organization, more providers working in the healthcare facilities that need them most and ultimately helping more people receive healthcare."
— Melissa Byington, division president of CompHealth locum tenens