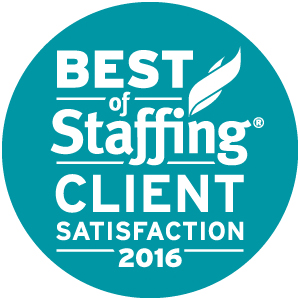 Congratulations to CompHealth and Weatherby Healthcare — they received Inavero's 2016 Best of Staffing award, a service excellence award in the healthcare industry.
CompHealth and Weatherby Healthcare were among the 2 percent of staffing agencies in North America that received this award! To determine winners, Inavero sent satisfaction surveys to our clients and providers, asking them to rate their most recent experience working with us and how likely they are to recommend us to a friend or colleague.
CompHealth and Weatherby Healthcare earned honors in both the client category (for service given to employers) and the talent category (for service given to job seekers). CompHealth has received the talent award for four consecutive years and the client award five times.
"Every day we have the opportunity to work with great providers and clients across the country," says Melissa Byington, president of the locum tenens division at CompHealth. "This award is a result of our efforts in really getting to know them and their needs so we can make the best possible job fit."
Weatherby Healthcare received the Diamond Award for winning the talent award five consecutive years and has been a winner in the client category for an amazing seven consecutive years!
"I am honored that Weatherby Healthcare has once again received these awards because they confirm that we provide unparalleled service to both the clients and healthcare providers we work with," says Weatherby Healthcare president Bill Heller. "Our commitment to Growth and Continuous Improvement has helped us achieve this goal."