After learning that the walls surrounding the legal department in the Salt Lake office would soon be torn down to make room for 12 new cubicles, members of the CompHealth locums tenens division decided to have a bit of fun.
"It all started because Christine [Conder, corporate facilities director] came down to inform us that the walls were coming down," shares Tracy Horsley, senior manager of the CompHealth locum tenens payroll and housing teams. "Being the creative person that I am, I spontaneously replied, 'Oh, does that mean we can put things on it?' Christine gave permission, with the exception that the writing needed to be very small, and she proceeded into the legal department. By the time she returned, approximately 15 minutes later, the wall was covered in creative 'graffiti.'"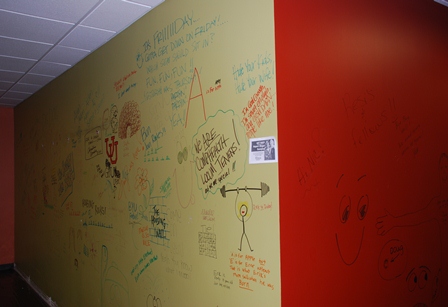 Tracy says that the wall "blossomed," and employees throughout the company shared a thought or drawing on it. The plot thickened when CEO Mike Weinholtz and other leaders visited the floor on Cinco de Mayo and saw the writing on the wall — literally.
"The senior management and directors were walking around and celebrating the holiday, but when Mike came to the wall, he just stopped singing and clapping. 'Does Christine know that you did this?' he asked. Being a smart aleck, I said, 'No, do you think we should have told her?' His eyes were as big as golf balls," Tracy recalls.
Christine came up a few minutes later and wrote her own message on the wall to show support.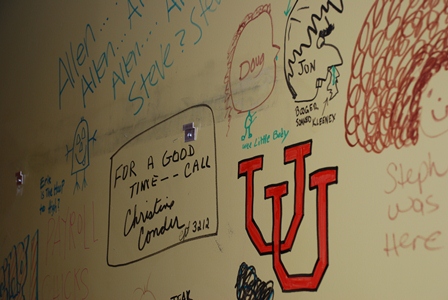 "I took a picture of Christine signing the wall and sent it to Mike," Tracy says. "He told me to keep it for blackmail purposes."
 
The walls were demolished May 10.