Most companies would balk at the idea of providing their employees with water pistols, but when Sarah Wilkinson, client representative at CompHealth allied health staffing in Grand Rapids, Mich., joined CHG six months ago, her leaders provided her with training, guidance and a squirt gun to keep in her desk. Just in case.
What else did Sarah come to learn about CHG? Read her first impressions and find out!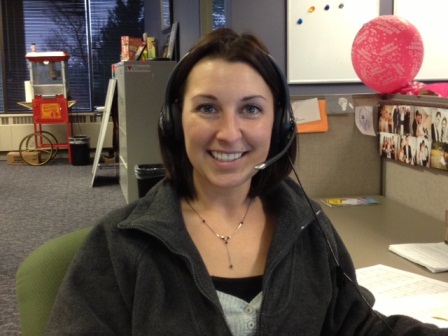 What do you do at CHG and what do you like about your job?
I am a client representative and I enjoy building relationships with new clients. It is great to be able to help provide therapists for medical facilities who are in need.
When did you come to CHG?
July 10, 2012
How did you hear about CHG and what made you want to apply?
My friend Linda Groth told me about CompHealth and encouraged me to apply. I had worked with Linda in the past, and she was always letting me know how great her new job was. I finally decided to listen to her and submit a resume.
Where were you working before you came to CHG?
Mill Steel, a company that processes and distributes a full line of flat-rolled steel products.
How has working at CHG compared to your other working experience?
Working at CHG is great! The people here are awesome and there is such a team-oriented atmosphere. I do believe that this company stands by its core value of Putting People First.
What can you tell me about your first day?
Honestly, I do not remember too much about my first day. I remember thinking that it was great how much training and guidance was available. Also, I was given a squirt gun to keep in my desk drawer, and I remember thinking that there probably aren't too many companies who would encourage this activity in the workplace. I thought that was pretty cool and unique.
What has been your most memorable experience so far?
Going to training in Salt Lake was a great experience, and it gave me a wonderful impression of the company that I would be working for. I was really excited to start working for such a fun company with employees who truly care about each other and want to provide the resources for everyone to be successful.
Do you have any advice for new or potential CHG employees?
Work hard, be yourself and enjoy the culture!