Brooke McCormick, a recruiter at RN Network working remotely from Grand Rapids, Mich., has always loved playing sports, particularly team sports.
"I love the feeling of being a part of something, of being a part of a team and working toward a common goal," Brooke says.
While her role at CHG has more to do with recruiting nurses than passing a ball, Brooke says that the team spirit she feels at CHG is as strong as that of any team she has ever played with.
"No matter what office you go to, the people there just give you a sense that you are part of a family, part of a unified team, just like you feel when you are on a sports team," Brooke says. "It is wonderful to know that you can go to any office and still feel that same way."
Brooke quickly fell in love with CHG's culture and was terrified when she thought she might have to leave the company. Read all about it below!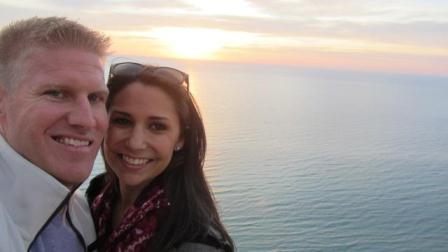 The leaders at CHG have helped me improve myself by always being transparent and supportive. They hear out my goals and actually listen to where I want and need to go. Four months after I started working at the RN Network division in Boca Raton, Fla., my fiancé was offered a great job with Damon Worldwide. It was an incredible opportunity for him, but the position required him to move to Grand Rapids, Mich. He knew how much I loved my job and loved working at CHG, but it was too big of an opportunity to pass up.
One day, I spilled the beans to Christine Paggi, manager of provider services at RN Network. I was in tears because I was so afraid to leave the company. Christine said they didn't want to lose me either, and that she would see what she could do. She met with a few leaders, and Sandra Raehl, division president of CompHealth allied staffing, made room for me in their office so I could work remotely there.
The leaders at CHG do their best to never deny anything and are always there to offer help and support. In turn, I try to listen to what my travelers have to say and to hear what they want and then try to make it happen. Instead of being the 'Äòno company,' we see if we can make it happen. We see if we can do what they need.
Would you like working at CHG? Check out our job openings on the CHG careers page!