The Salt Lake office better understood the phrase "It's a Jersey thing" when Snooki paid a visit to the CompHealth locum tenens division on May 19.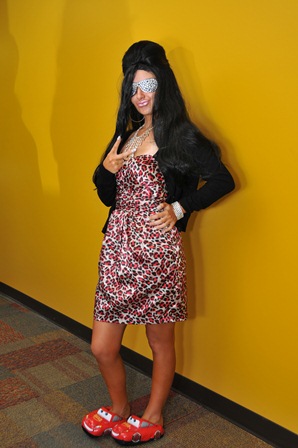 "I decided to make a 'proposition' for the pediatrics and subspecialties 1 teams that if they could achieve their weekly added-days target, especially with half their team gone to President's Club, that I would dress up as Snooki from Jersey Shore," says Michelle Rhodes, payroll representative. "If they achieved that goal, they would get two hours of PTO from their directors, but I thought I'd spice up the offer a little. I sent an email halfway through the week to keep their motivation sparked, and I loved the responses I would get from the team!"
Michelle says she chose to dress up like Snooki because she's "outrageous, eccentric and full of fun." When both teams met their goals, Michelle spent two weeks finding all of the items for, in her words, a "Snooki-fied look." And she didn't disappoint — her leopard-print slip dress, black jacket, Cars-themed slippers and blingin' accessories delighted the division as she made her entrance clutching a jumbo bottle of pickles (Snooki's favorite) with the fist pump song from Jersey Shore in the background.
"I wanted my offer to be about fun, especially since I would be making a complete orange fool of myself," Michelle shares. "Even if it meant stepping out of my comfort zone and resembling an Oompa-loompa for the day, I knew that celebrating my teams' accomplishments was well worth it. I didn't expect the reaction that I got from co-workers and loved seeing them laugh. Some co-workers didn't know who I was supposed to be, which made the day even better!"