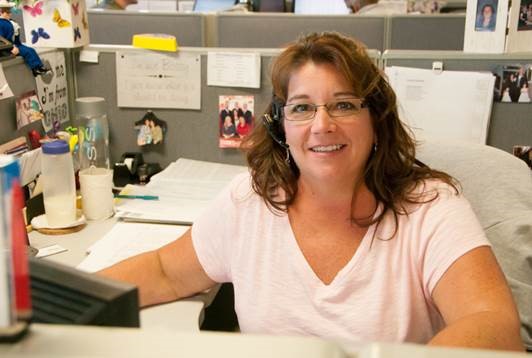 At the end of each workday, cheers ring through Weatherby Healthcare's office in Fort Lauderdale, Fla., as senior consultant Lisa McNulty leaves her desk.
"Years ago, I would leave work ten minutes early so I could beat the traffic to pick up my kids from daycare," recalls Lisa, who recently celebrated her twentieth anniversary with the company. "Just to be funny, everyone would clap for me when I left."
The daily tradition stuck and illustrates the culture of fun and camaraderie that exists within the division.
Embracing Change
As the longest-tenured member of the Weatherby family, Lisa has experienced changes big and small — including the introduction of the Internet to recruiting (as opposed to a three-ring binder!) and moving offices several times.
"CHG's core value of Continuous Improvement is one of the things that has kept me around so long," she explains.
A Team Player
Weatherby vice president Gregory Prine says Lisa's move from the psychiatry team to the pediatrics team several years ago helped both the company and her new team members. "Lisa knows the business," he says. "She wants everyone around her to succeed."
Theresa Ferraro, senior director, began working for Weatherby just two years after Lisa and has experienced her help firsthand. "The first year can be hard, and Lisa helped me stay positive," she shares. "I really appreciated it."
Relationships Matter
People are the most cherished part of Lisa's journey with Weatherby.
"I value the relationships I've built along the way," she explains. "Getting to know providers and the people you work with makes it enjoyable to come to work each day."